Visit to some schools in Bihar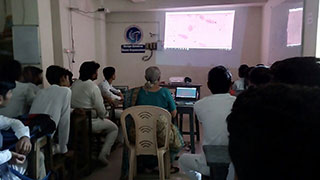 Apart from visiting schools in the state of Maharashtra in the last few years, Vidnynavahini has also been visiting rural schools in Karnataka, NE states, Madhya Pradesh and Jharkhand. We obviously, travelled by train to these places. Continuing this trend a team from Vidnyanvahini recently visited a few schools in and around Patna, Bihar.
The organizers of Bhrugu Universe wished to operate Mobile Science Laboratory on the lines of our model. After a detailed discussion with us, they thought of acquiring first hand and detailed knowledge and experience of our activities. Therefore they invited us to visit schools in Bihar. Three of our members went to Patna, carrying with them maximum possible equipment for a participative teaching of topics in SCIENCE, with the help of various apparatuses/PPT. The trip was from 31st August to 18th September 2017, including travel. They could cover, as was scheduled by the Bihar - group, 13 high schools run by Government or private organizations. Our team interacted with more than 2000 students of grades 7 to 10 during their visits to schools.
Our volunteers noticed that majority of the students had a good understanding of the topics, were bold, asked questions and were well disciplined. They were aware of competitive examinations such as UPSC, IIT and even girls expressed their goal of becoming IPS, IAS officers! That was remarkable. Teachers in every school attended our classes.
The school authorities, principals, teachers and students highly appreciated our fun - filled participative interaction, sound explanation of principles, with demonstrations using various teaching aids which made the concepts clear. Last but not the least there was a high praise from everyone for the devotion and tenacity of our group members, who conducted classes, non - stop for 6 - 8 hours, except for short breaks during change of class rooms. All insisted on our repeated visits to the schools.
A question lingers in our mind that why we cannot find a good number of such students here in Maharashtra, as far as subject knowledge and awareness of various educational and career opportunities ahead are concerned!