Mobile Science Lab (MSL)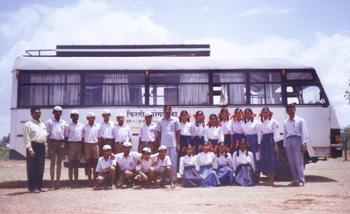 Most rural secondary schools in India have grossly inadequate science laboratories. The students often learn science without performing or even observing a single experiment. Vidnyanvahini, through its MSL (Mobile Science Lab), gives the students in secondary schools a chance to learn science by performing experiments, thus giving them not only the pleasure of "learning by doing" but also rendering the subject enjoyable and easy to understand. Vidnyanvahini emphasizes to students that in general, statements should not be accepted as facts just because they are stated in a book. Instead, they should be verified by observations and rational conclusions drawn from such observations. It is through such an attempt that we hope to inculcate and nurture a scientific attitude among the school children.
Click here to view list of experiments performed by or demonstrated to students. (PDF 116KB)
Typically, members of the Dialogue and Action Group (DAG) of Vidnyanvahini together with the local science teachers interact with about eighty students on a given day. The students watch and perform 20 to 25 short experiments. Supplemental information is provided through audio-visual aids, exhibits such as a model electric train, lecture/demonstrations, powerpoint based presentations using laptop/LCD projector, and classroom discussions.
Vidnyanvahini selects schools based on their need, size, and location. The MSL, in consultation with the school authorities, schedules one or two trips to about eighty-five schools per year. The experiments are chosen primarily for 8th, 9th and 10th grade students. Five to six teacher workshops are held on a yearly basis. Headmasters of needy schools are encouraged to contact Vidnyanvahini for a visit.
Highlights
2015-16
In another first of its kind Vidnyanvahini arranged a summer camp in Pune for students hailing from remote parts of Arunachal Pradesh. The camp exposed the students to a variety of interesting experiences through lectures and visits to institutions/factories around Pune. To foster cultural integration the students were placed with families in Pune for a part of the camp.
In a well-attended function held on 27 October 2015, Vidnyanvahini celebrated two decades of its existence. The highlight of the function was a panel discussion on 'The State of Science Education' presided over by the distinguished scientist Mohan Apte.
2014-15
At the invitation of Conservation Wild Lands Trust, Vidnyanvahini made a number of visits to tribal schools in the thickly forested areas of Pench bordering Maharashtra and Madhya Pradesh states. Vidnyanvahini was also invited to participate in a two-day science exhibition at Jamnagar, Gujarat.
2013-14
Vidnyanvahini ventured outside Maharashtra for the first time when a few members of Vidnyanvahini braved considerable hardship to visit remote schools in the states of Nagaland, Assam and Arunachal Pradesh at the invitation of local organizations there. The visit was utilized to conduct science sessions for students as well as teacher training workshops.
2012-13
We replaced our MSL by a new Eicher vehicle, inaugurated and put into service in Sept. 2012 with donation received from the Cognizant Foundation. The old Tata 709 vehicle was sold at concessional price to Vigyanvahini which was inspired by Vidnyanvahini and is successfully performing similar activity in Hyderabad, A.P.
2011-12
We visited several schools in tribal ares of Nandurbar district at the request of Sir Ratan Tata Trust. The trust lauded the work of Vidnyanvahini in its annual report. FBB, due to popularity of Vidnyanvahini among members, designated us for an "encore" in Jan.-Mar. quarter of 2012 and we were again enthusiastically supported by members. We produced a short film "Kayapalat" directed by Jagdish Kulkarni on removal of superstitions among rural people. It was very well received by students.
2010-11
Jayant Phalke designed and set up a permanent set of exhibits at our Dhayri office on 'Atomic Valency and Chemical Bonds' in January 2011 to celebrate International Year of Chemistry.
Ashok Prabhu developed MS PowerPoint presentations in teaching biology, chemistry and physics. This was very helpful for students' comprehension and the teachers welcomed this change.
Foundation Beyond Belief (FBB), a secular charitable trust from USA chose Vidnyanvahini as designated NGO in educational field for the Oct.-Dec. quarter of 2010. The members of FBB overwhelmingly supported Vidnyanvahini with donations.
2009-10
Students from Dept. of Management Studies, University of Pune, performed external evaluation of effectiveness of Vidnyanvahini's MSL through survey conducted at sample schools. Its conclusion: majority of students and teachers found the experiments and videos on superstitious beliefs very effective. This has been first such independent evaluation.
2008-09
In June, students at our workshop got a special permission to visit Armament Research Division Explosives which had never been open for students before. Starting this year, all chemistry experiments were performed by students themselves. In February 2009, 115 students of 10th standard were able to perform all experiments from the syllabus at Dhayri center. A science exhibition was arranged at Kataria School in Pune in December 2008.
2007-08
A science center space was acquired at Dhayri near Pune. Science day was celebrated on Feb. 27-28-29 attended by 600 students. In February 2008, about 300 tenth class students came to the Dhayri "Vidnyan Prayogika" and performed all experiments included in their syllabus under our supervision. A book "Anuche Antarang" by Jayant Phalke was published by Vidnyanvahini for science teachers and students.
2006-07
Teacher's training workshops were held in Urse for 4 days and for 8 days in Pune. This was funded by a grant from Johnson and Johnson Foundation. Madhukar and Pushpa Deshpande were featured as guests on a one hour live program of "Hello Sakhi" on the Sahyadri channel of Doordarshan in January 2007. In March 2007, a presentation on Zee Business channel's "Swadesh" series featured them. These two TV presentations generated a lot of interest among people about Vidnyanvahini.
2005-06
Marathi Vidnyan Parishad of Mumbai arranged a second seminar of mobile educational units in November 2005. Sharad Godse made a presentation about Vidnyanvahini.
2004-05
On 16-1-2005, Vidnyanvahini celebrated ten year anniversary by inviting eight organizations providing service with Mobile Educational Units from Karnataka, Tamil Nadu and Maharashtra, Gujarat and Andhra Pradesh-the first such gathering of MSLs ever. There was an exchange of ideas. Dr. Anand Karve and Dr. Jayant Naralikar addressed a gathering of students, teachers and well-wishers of Vidnyanvahini. A souvenir issue was published featuring articles by the organizers of visiting MSLs and by members of our own DAG highlighting activities of Vidnyanvahini. A copy available on request.
2003-04
Madhukar Deshpande was interviewed by Raju Parulekar on E-TV's "Sanwad". Pushpa Deshpande was featured in "Woman's Era" magazine.
2002-03
Pushpa Deshpande received an award from Bhagini Nivedita Trust. Jayant Phalke talked on All India Radio. Balchitravani aired a documentary on TV.
2001-02
Pushpa Deshpande received the Deodhar Puraskar trophy and a cash award from Sewasadan. MSL's story was presented on the "Sakhi" show of E-TV.
2000-01
V-V started the Surodi watershed development work. A news item about MSL was aired on CNN. V-V supported Gulbarga's Vidnyan Prasarini in Karnataka.
1998-99
Educational Media Research Center prepared and presented on Doordarshan, a documentary on Vidnyanvahini's MSL.
1997-98
Medha Patkar's video monologue was prepared for the students of MSL on water conservation and management issue.
1996-97
MSL visited Baba Amte on the banks of River Narmada and received his blessings for this project. Baba said mobile science center was his unfulfilled dream.
1995-96
Mobile Science Lab was inaugurated by noted activist actress Shabana Azmi and by Javed Akhtar on July 14, 1995 at a school in Hadapsar, Pune. During this year, we visited 100 schools including out station visits to Sangamner in Ahmednagar district, Rajuri in Solapur district and Latur in Latur district.