Recent camps
Nivant Andh Mukt Vikasalay run by Mrs and Mr. Badwe at Tigare Colony, Pune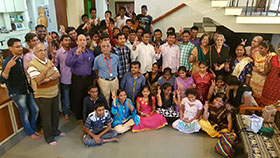 We visited Nivant Andh Mukt Vikasalay run by Mrs and Mr. Badwe at Tigare Colony, Pune
60 boys and girls participated.
We showed them experiments in physics, chemistry and biology.
All were very much enthusiastic to learn, observe apparatuses by touching and feeling, eager to understand everything, asked many questions. It was a rare experience to all our volunteers. During our regular visits to normal schools, we rarely come across such students!
We have visited this organization 2 times earlier and we had a similar experience.
We enjoyed teaching the participants and extended the time very gladly.
Please click here for more photographs
A REPORT ON CAMP ORGANIZED BY IISER, PUNE & VIDNYANVAHINI, PUNE
A) Background:
A residential camp for students, both boys and girls, from rural areas of Maharashtra was held at IISER from May, 20, 2018 to May, 25, 2018.
The Project Executives of the Outreach Department of IISER and Office bearers of Vidnyanvahini [NGO] had a series of meetings/telephonic discussions to plan and organize a residential camp for students from various districts of Maharashtra.
The perception and the aim of the proposed activity was:
a] To provide exposure to students from rural areas to the Educational and other activities/facilities such as at IISER, available in large cities;
b] To make them aware about the career opportunities in educational, defence or various other fields,
c] To provide basic training in sciences, such as physics, chemistry, biology, astronomy, and to popularize science;
d] To refurbish their personality;
e] To provide them experience of mixing with and working in a group of other students.
B) Selection of students:
It was concluded to select students, both boys and girls, who were studying in grade 8. This was because that would be a proper age for such training and also if we decide to focus on those students again in the following year, those will be freely available in schools.
It was resolved to conduct an entrance examination to select 50 students. In addition about 10 students were to be admitted from PMC schools where IISER assisted in training for students.
Accordingly two written examinations, followed by an interview were conducted and final list of participants was prepared. There were 50 students from rural areas and 10 from PMC attended the camp.
C) Lodging, Boarding and other facilities such as lecture hall:
Lodging at hostels, food at dining hall, Raman lecture hall no. 1 & 2 for lectures, chem and bio laboratories and Balan Science centre for hands on activities were provided by IISER.
Vidnyanvahini conducted the tests, interviews and selected students from rural areas of the state.
[Vidnyanvahini, NGO, operates a Mobile Science Laboratory. It visits high schools all over Maharashtra. It has visited schools in Nagaland, Arunachal, Meghalay, Assam, Jharkhand, Bihar, Madhya Pradesh, Gujrat, Karnatak etc. It has more activities such as workshops for teachers/students, intensive training, watershed development work, science centres. This is its 24th year of working. The volunteers are retired professionals from various fields but with science background.]
A few volunteers of Vidnyanvahini attended the camp on all days.
The total program was fixed jointly by IISER and Vidnyanvahini.
D) The highlights of the schedule of the program:
Lectures/Presentations:
1) Orientation about the camp and its objectives by Dr. R. G. Bhat.
It was a motivational talk by him. It was a unique experience to hear him. All the participants wished to listen to him again. 2) Dr. Rajendra Hiremath, Chairman of Janseva Bank was invited to talk to the students. He is physically challenged since birth and still achieved so many credentials in life. We wanted to present him as a 'Roll Model'.
He motivated the students and guided them to take the full advantage of the training at IISER. He also congratulated Vidnyanvahini for its meritorious service for rural students for more than two decades.
3) Dr. Shivaprasad Patil narrated to the participant about his research on 'Hydra' and then demonstrated a few experiments in physics based on Bernoulli's principle, optics and electricity. His session was quite interesting.
4) Ms Shanti was at her excellence in making students understand Mathematics. The class enjoyed her teaching a lot. The whole class room was made 'LIVE' by her which was appreciated by teachers present. They appreciated her performance which was exemplary.
5) Ms. Manwa's PPT was also too good. She narrated and explained a topic in Biology going in necessary details very well with a fluency in talk.
6) Dr. Raju Kumbhare enlighten students how to fix up a goal in life and then how to achieve the success.
7) Ms Asha Agnihotri and her team explained participants about the basic colours and various shades. Her topic was, 'Science of Colours'. Students enjoyed the participative session.
8) Ms Anjali Chipalkatti conducted her lecture, rather discussion, with a view of inquiry oriented learning. She tackled basic chemistry wherein students found out the answers to her queries.
9) Mr. Waman Palnitkar explained many things about our Solar system and interesting phenomenon of black star etc. with the help of some clips. That lecture was purposefully planned because 'Sky Watching' was arranged later on.
10) Jyotirvidya Pratishthan was invited to arrange for sky watching through two telescopes on open ground. The event was too good. The participants enjoyed viewing The Earth's moon, The Moons of Jupiter and the International Space Station. These was along with a detailed explanation.
11) Mr. Ashok Rupner and his team demonstrated a few interesting experiments, especially in physics, with a humour. Students enjoyed the session and could observe the properties of dry ice. The participants carried some simple things made by using straws and magnets.
12) Dr Ompraksh Yemul from Nanded University was invited to enlighten the students on the hot topic of 'Plastics'. His presentation was very good. He talked about different types of plastic, advantages, disadvantages and solutions to the problems. It was very much effective and enhanced the knowledge of all who were present.
Laboratory Experience:
It was a life time experience to students. Only the students of IISER get such an opportunity to carry out hands on activity in Biology and Chemistry laboratories. They were excited to wear aprons, caps, hand gloves, goggles while working.
They learnt how to make 'Blue Printing' by handling different chemicals and doing various processes.
Ms. Manwa and her team were too good in getting the activity done perfectly with a thorough explanation of reactions.
While the session in biology was about live organisms. They could see with their own eyes, using microscopes with high resolutions, live microbial organisms in dirty water. Not only could this but they found out their own blood group, taking out a drop of blood from their own fingers themselves.
Ms. Manwa and the team took lot of efforts in explaining sincerely with patience in arranging the activity for 60+ students.
Visits:
Two outstation visits were organized.
College of Military Engineering (CME) and Indian Institute of tropical Meteorology (IITM)
All the participants enjoyed the visits. There was an overwhelming satisfaction for all.
They could observe various warheads, rowing channel, understood opportunities in defence services and the qualities required. They even tried simulations of rowing methods.
At IITM, the participants were taken around 5 different laboratories. Those were related to atmospheric forecast, trees and environment.
Motivational entertainment:
We screened a Marathi film, 'Yellow' based on a real story of a 'Special' girl who has won many National and International awards in swimming. The theme of the film was, "I can do it!". It was so effective that students expressed their wish to meet the girl, Gauri Gadgil, who was the actress too in the film.
We made arrangement to call her with the parents and all students interviewed them, took photos with her and greeted her. The participants must have carried a message that 'They can do/achieve anything if they decide to do so'.
Exercises:
Every morning one hour was reserved for Soorya Namaskars/ Yog/ Self-defence. Students did not get tired with these but enjoyed and assured to continue these after going back to home.
Games:
Students enjoyed playing basket-ball, soccer, cricket in the late evenings.
Closing Ceremony:
The closing ceremony was totally planned and executed by the students themselves. It was appropriate to the occasion. The participants had turned bold, could express their feelings, and whole heartedly praised the IISER and Vidnyanvahini and programs and activities and staff and what not!
It revealed that if opportunities are given the students staying and learning in rural areas would achieve great success in any field.
Feedback from students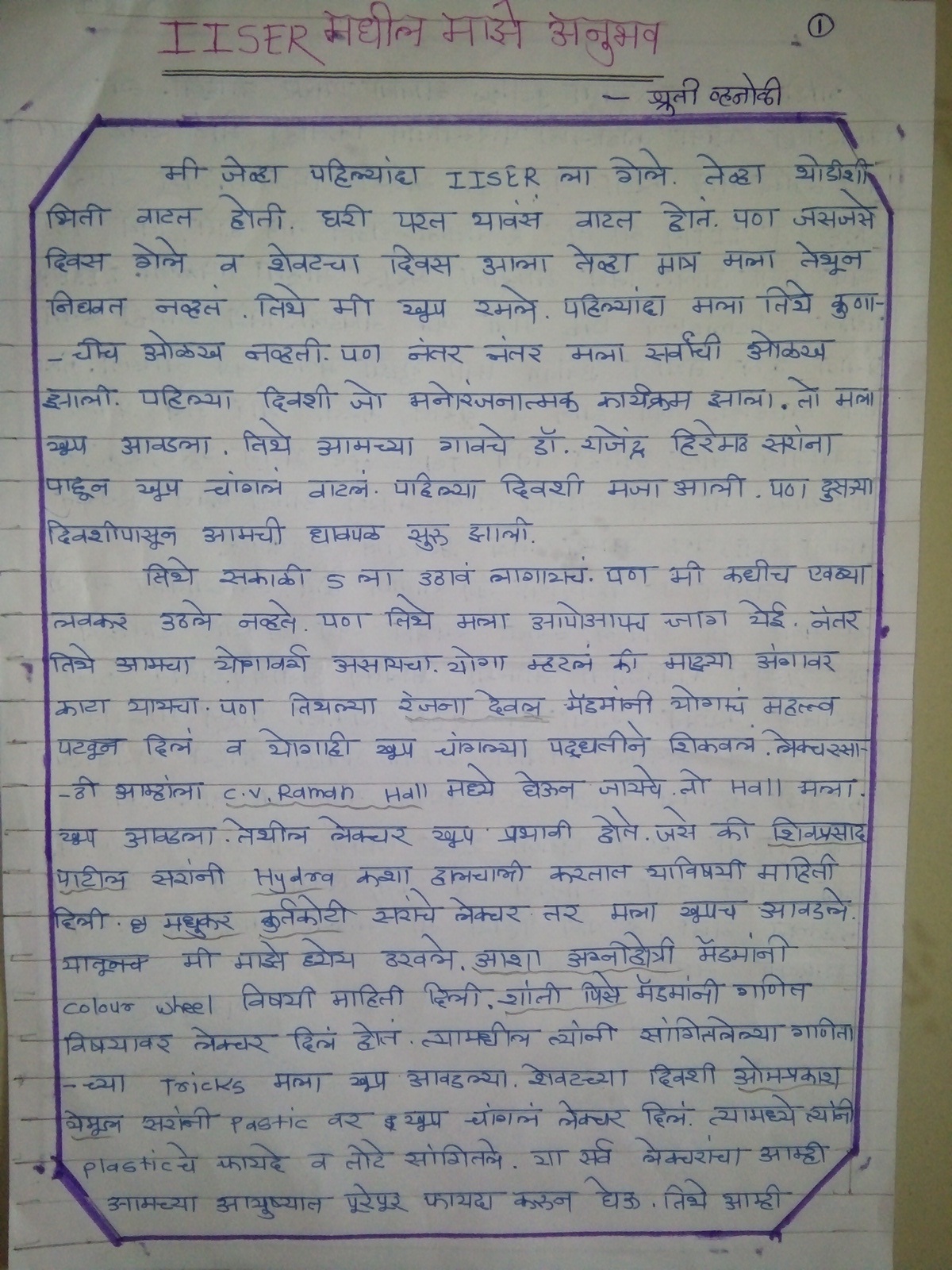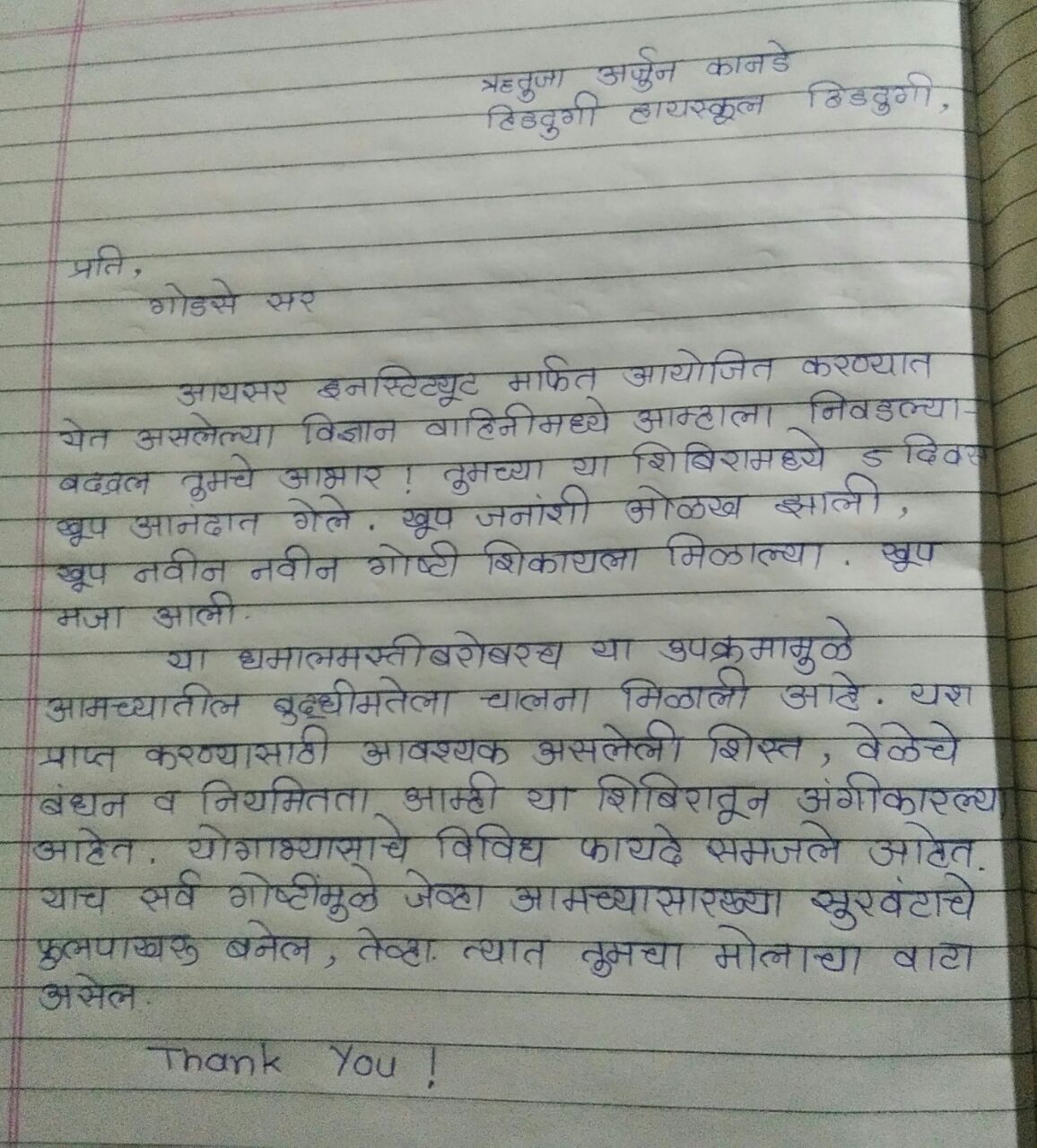 Vidnyanvahini: Second Workshop for students from various districts of Maharashtra
Dates: June, 17, 2018 to June, 21, 2018 at Pune
Participants: 33 students and 6 teachers
Program:
'Vidnyan Kirtan' by Shreyas Kulkarni,
'Robotics' by Amol Gulhane
'Geometry' by Dr. Shanti
'Cells, DNA, RNA' by Dr. Abhay Harsulkar
'Apalya Bharatachi Jadanghadan' by Vinit Waghe
'Jeevshrushticha Itihas' by Vinit Waghe
'Arctic and Antarctic' by Vishwas Patwardhan
'Various experiments' by HBCSE, TIFR, Mumbai
'Madhmashyanche Palan' by Amit Godse
'Electro-magnetic Induction and Plasma Ball' by Dr. Vaishali Dhaygude
'Sanyadalache aavhan' by Ms Anuradha Gore
'Plastics' by Dr. Medha Tadpatrikar
Visits:
Armament Research and Development Establishment [ARDE], Pune
Indian Institute of Science Education and research [IISER]
Armed Forces Medical College [AFMC]
Others
'Hands on Archery, Rifle Shooting' at Ranjeet Chamle's academy
'Yogasane' by Ranjana Dewal 2 days
'Hasya Yog' by Ms Joshi group
'Games' by Mukund Bhadbhade
'Quiz' by Dr. Pradnya Deshpande
एका शिक्षकाचे मनोगत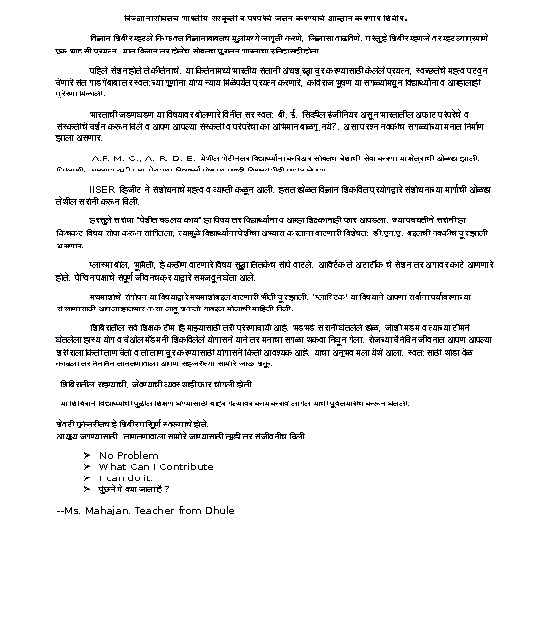 विज्ञानवाहिनी, पुणे दिव्यांग विद्यार्थ्यांसाठी शिबिर
गेल्या कित्येक वर्षांपासून विज्ञानवाहिनी ग्रामीण भागातील विद्यार्थ्यांसाठी दरवर्षी जूनच्या महिन्यामध्ये एक शिबीर चालवित आहे. या विद्यार्थ्यांच्या जीवनातील कक्षेबाहेरच्या आणि नाविन्यपूर्ण अशा विविध विषयांचा आणि घडामोडींचा परिचय त्यांना करून द्यावा जेणेकरून त्यांचा दृष्टीकोन व्यापक व्हावा हा या शिबीराचा उद्देश असतो. पाच दिवस चालण्याऱ्या या शिबिरात विज्ञानवाहिनीने भेट दिलेल्या ग्रामीण शाळांतील निवडक विद्यार्थ्यांचा समावेश असतो. विविध विषयांतील तज्ञांची संभाषणे, पुण्याच्या आसपास असलेले कारखाने व राष्ट्रिय संस्था यांना भेटी असा भरगच्च कार्यक्रम शिबिरात असतो.
या शिबिरांना मिळणारा प्रतिसाद पाहून गेल्या तीन वर्षापासून दोन शिबिरे विज्ञानवाहिनीने घ्यायची प्रथा चालू केली आहे. यातील पहिल्या शिबिरात एका वर्षी अरुणाचल प्रदेश आणि दुसऱ्या वर्षी नागालॅंड मधील शाळांतील विद्यार्थ्यांना आमंत्रित केले होते. यावर्षी कोल्हापूरमधील Helpers of the Handicapped या संस्थेतील दिव्यांग मुलां/मुलींना शिबिरात सहभागी होण्याची संधी दिली आहे. हे शिबिर २८ मे ते ३ जून या दरम्यान घेतले गेले व त्यातील ठळक कार्यक्रम असे होते:
'शिकण्याच्या नवीन पध्दती' – राजीव तांबे
वाद्यवृंद - सप्तसूर परिवार सांस्कृतिक मंच
'हास्य योग' – मुकुंद भडभडे, शैलजा जोशी
तिरंदाजी, रायफल शूटिंग – रणजित चामले
टाटा मोटर्स कारखान्याला भेट
सोप्या वस्तू बनविणे – शिवाजी माने
'ध्रुवीय प्रदेशांची सफर' – डॉ. चंद्रशेखर देशपांडे
'मधमाशांचे जीवन व त्यांची भाषा'- प्रा. पुरुषोत्तम घैसास
कात्रज डेअरीला भेट
'दिव्यांगांची दिव्य सृष्टी' - गणेश करे-पाटील
'एक होता कार्व्हर'– स्मिता एरंडे
IISER ला भेट
'इंग्रजी संभाषण'– अनिल गोखले
'पर्यावरण'- अभिजीत घोरपडे
'आपला भारत व आपले शेजारी'– आल्हाद गोडबोले
मुंबईतील होमी भाभा विज्ञान केंद्र, TIFR, Nehru Planetarium या स्थळांना भेट
' Yellow' – गौरी गाडगीळ या दिव्यांग मुलीच्या जीवनावर आधारीत चित्रपट व तिची भेट
या शिबिरादरम्यान असं जाणवलं की ही संधी मिळाल्याने विद्यार्थी भारावून गेले होते. उदाहरणार्थ गणेश करे-पाटिलांनी एडिसन, हेलेन केलर, इ. विविध दिव्यांग व्यक्तीनी त्यांच्या व्यंगावर मात करून यश कसं मिळवलं हे जेव्हां त्यांच्या प्रभावी भाषणात सांगितलं तेव्हां अनेक विद्यार्थी उत्स्फ़ुर्तपणे पुढे आले आणि स्वत:च्या आशा-आकांक्षा विषयी बोलू लागले. त्यातील एका मुलीने आपल्या आईने तिच्यासाठी केलेल्या प्रयत्नांचं वर्णन करताना तिला आणि प्रेक्षकानांही भावना आवरणं कठीण झालं. असेच हृदयस्पर्शी प्रसंग गौरी गाडगीळ आणि तिच्या आईशी बोलताना आणि समारोपाच्या वेळी सर्वांना आले. या मुलांसोबत आलेल्या शिक्षिका सौ. विभावरी सावंत यानी शिबिराविषयी व्यक्त केलेल्या लेखी प्रतिसादातील एक उतारा :
"... खूप गोष्टी नव्याने समजल्या. आमच्या ज्ञानात भर पडली . सर्व व्याख्यानांबाबत बोलायचे झाले तर माझ्याकडे शब्द अपुरे आहेत. प्रत्येक वक्ता आपल्या ज्ञान आणि अनुभवाची शिदोरी आम्हाला वाटत होते. एवढ्या अनुभवी, ज्ञानी मंडळीना पाहून मुलांसोबत आम्हालाही नवा दृष्टीकोन लाभला..." (पूर्ण प्रतिसाद)
यानंतरचे दुसरे शिबिर १८ जून ते २२ जून या अवधीत घेतले जाईल. या शिबिरात गेल्या वर्षी विज्ञानवाहिनीने भेट दिलेल्या ग्रामीण शाळांतील निवडक विद्यार्थी व विद्यार्थिनी भाग घेतील. शिबिरातील ठळक कार्यक्रम असे:
'अंटारक्टिकाची सफ़र' सुहास काणे
'प्लास्टिक चे जग' – डॉ. येमूल
IISER ला भेट
IAF Station Lohegaon ला भेट
College of Military Engg. ला भेट
'वेध अंतराळाचा व अंतराळयानाचा' – डॉ. रिसबूड
'ओरीगामी' – प्राची सप्रे
'पक्षांची दुनिया' – चंद्रकांत कोल्हटकर
'आपला मेंदू आणि आपण' – डॉ. जावडेकर
'Helpers of the Handicapped' माहितीपट
'विश्वाची ओळख' - डॉ. तुपे
'हस्ताक्षर विश्लेषण' – इंद्रजीत खाडीलकर
'कारगीलची शौर्यगाथा'- अनुराधा प्रभुदेसाई
'असं का ?' – डॉ. भास बापट
'मी कसा झालो' – मधुकर गोखले
'गणित व जीवशास्त्र' – डॉ. मिलिंद वाटवे