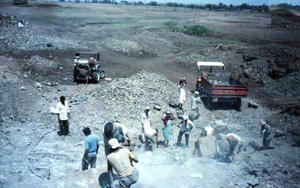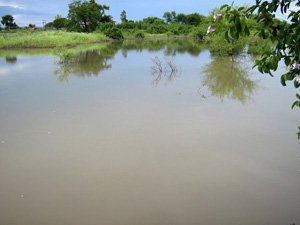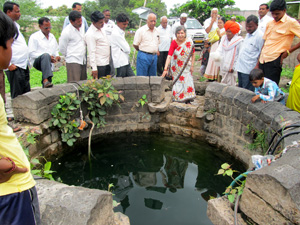 Surodi Watershed Development Project:
Phase I

| Phase II
While Vidnyanvahini's primary function is to spread science awareness among rural children, we also support any development effort based on local participation. The Surodi watershed development project is the first such endeavor by Vidnyanvahini.
Vidnyanvahini has undertaken this watershed development project in Surodi, Taluka Srigonde, District Ahmednagar. Ashok Rupner, a fulltime member of Vidnyanvahini's DAG, hails from this village. It is a tiny place with a population of 600. There is no school, doctor, or post office in the village. The road is unpaved and poorly maintained. State Transport buses cannot provide service to Surodi during the monsoon season. There is no tap water, and most of the wells dry up almost every summer. The village depends on tankers for drinking water for several months of the year.
Ashok took initiative in getting local youth together for integrated development of the village. First, with support from local women and the Gram Panchayat, they stopped sale of liquor in Surodi. They then decided to start watershed development activity by rebuilding some old and worn out bunds and planning to build a few new bunds in key locations so as to conserve rainwater which could percolate and recharge dried up wells.
A chapter of Association for India's Development (AID) is currently supporting the Surodi Project since it is backed by local people's participation. The following is a report of work done during 2001-02 in Ashok's words.
Ashok's Report:
At the village meeting held on Jan. 11, 2002, we decided to complete the work started in 2001 on three bunds and to construct six additional bunds. Vidnyanvahini's MSL visited Surodi on 11 and 12 January at which time they also brought engineers to do survey work for the proposed bunds. The villagers did preliminary digging work between March 2 to 8 with a rented JCB machine. They purchased and kept ready five truckloads of sand for construction.
During the next ten days, we cut stones from an old abandoned quarry in our village needed for the construction.
The quarry had to be cleaned and some blasting work done. We were able to accumulated 54 tractor trolleys of stones.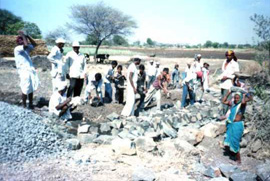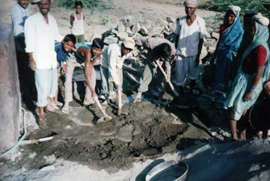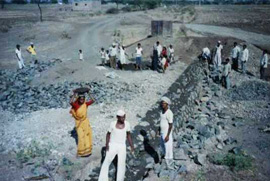 Work in progress....
Preliminary digging work by villagers.

read full report >>>