Vivekanand Kendra Vidyalay's (Arunachal Pradesh) Mobile Science Laboratory.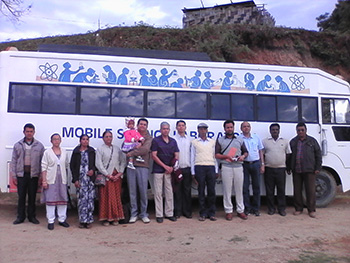 Having appreciated Vidnyanvahini's MSL activity, Vivekanand Kendra Vidyalay Trust planned to start such a mobile laboratory in Arunachal Pradesh 3-4 years back. Accordingly a vehicle was built up by them. However for certain reasons they could not put it into operation.
Last year Sharad Godse and Dattatray Dewal visited VKV, Itanagar and went to 7-8 schools of Papum Pare District using the vehicle. The programme was highly effective and the school authorities expressed their satisfaction which revealed its worthfulness. VKV was contemplating since then to put the MSL in operation with Vidnyanvahini's help.
This year, in October-November 2014, our following members visited Arunachal on an invitation from VKV.
Ms Urmila Parchure, Ms Anita Sathe, Mr. Vivek Erande, Mr. Dattatray Dewal and Mr. Sharad Godse traveled to Arunachal.
They reached Itanagar at night on 30th October. The MSL activity was inaugurated on the next day by Dr. Joram Begi, the Director of Technical Education, AP. On that day itself the MSL activity /programme was held in a Government School at Chimpu. Thereafter the team, along with 2-3 teachers of VKV went on visiting one school everyday, including Sundays and holidays, till 18th November 2014. A workshop for teachers, with an aim to train them for MSL work, was held for one full day. Similarly some teachers accompanied them for an actual training in schools. The MSL activity was managed by VV volunteers in 20 schools. School teachers of all the schools have insisted VKV to carry on the activity and to provide an opportunity to their students at least twice a year!
Now VKV's teachers are continuing the activity competently. VKV wishes to run that in 50-51 school this year. It will be recommenced after a few months.
VKV's teachers are now trained and the MSL has been put into operation. We are glad that an MSL has started by taking inspiration from Vidnyanvahini.